A Twisted Tale
Another Indie-Game? But of course!
Discover a humouristic point and click adventure inspired by all the masterpieces which made us stick to our computers back in the day (and wherefore we played outside way too infrequently). Full of loony characters, unexpected twists and challenging riddles.
About the game
Accompany Vio on her unintentional journey through various realms. Explore broken cities, pirate ships in the deepest jungle and other unreal places. Stand by her side when she makes the acquaintance of the (depressive) Death and engage with lots of explicit and ambiguous references, hommages and immitations of the big classics past (and not quite past) times.
We are a bit vintage - therefore we draw our background art the old-fashioned way with paper, pencil and ink. Colorizing is done digitally - this way we leave less colorful smudges on our desks.
The developer
I'm Eva, a true frankfurt woman and the solo dev of this point & click adventure game. As the sole developer, I create A Twisted Tale from the first idea to the last line of Lua script. This means that also the story, dialogues and puzzles come from my pen, as the graphics and animations are created by me. I use paper and pencil for this, and I draw in ink. The graphics are digitised using a scanner and finally coloured on the PC. For the animations, I use the classic frame-by-frame method, and thus do without common animation software.
In the next step, the game is technically realised by me via Engine Visionaire Studios. Since the planned contents and their mechanics often exhaust and exceed the possibilities of the engine, I also use Lua script to realise them.
As a child, I already had my own computer at an early age. Back then I played everything I could get my hands on, but I lost my heart to point & click adventures. I was hopelessly in love with George Stobbart's voice (Broken Sword) and loved finding bizarre solutions to even more bizarre puzzles in Monkey Island (3). My favourite point & click adventures also include Toonstruck, Orion Burger, King's Quest (7) and Indiana Jones and the fate of Atlantis.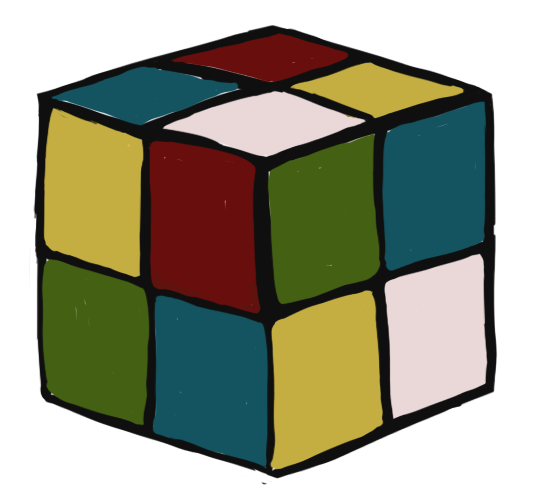 And what the heck is up with this wannabe rubicks cube?
Stay in the loop and follow me!
I only send you a mail when I have more important updates.
For the day-to-day stuff, follow me on twitter, here:
@TaleTwisted
@EvaATwistedTale